Thank you for including occupational therapy in your giving plans. Here are 4 options for your donation.  Please contact us directly if you have a special purpose in mind and we will be happy to facilitate your wishes.
Rehabilitation Science students discover a therapy for rising tuition costs
Many students and alumni of Occupational and Physical Therapy know that higher education is an expensive undertaking—one that is growing more expensive each year. As they strive to improve the health of patients, students often make decisions based on their financial strain, from where they to live, to the food they eat, to the textbooks they buy.
So, when the Canadian government stopped allocating monthly stipends to rehabilitation science students in 1979, Nancy Cho, a UBC School of Rehabilitation Medicinegraduate of 1982, decided to help her fellow students make ends meet. Together with the student council, Nancy established the UBC Rehabilitation Sciences Alumni Bursary, enabling friends and alumni of the UBC MOT and MPT programs to give to future generations of occupational and physical therapists and to support the programs that inspired their careers.
As a result of the generous support of alumni like Karen van der Hoop and Karol Elliott, the bursary's endowment fund is now able to provide two $2,250 awards per year. These twin sisters, both Rehabilitation Sciences graduates of 1979, regularly give to the Rehabilitation Alumni Bursary and have provided generously for future students through gifts in their wills. However, with rising tuition costs and the high cost of living in BC, further philanthropic support for dedicated students is needed.
In 2012, the bursary celebrated its 30th Anniversary, and Nancy Cho set a goal of raising an additional $30,000 to top-up the bursary fund, in support of the next generation of occupational and physical therapists. This goal is now more than half-way reached, and your support is urgently needed to expand the aid we can provide to our students to reduce their financial burden. Click here for your support.
Be Happy: Help Ease the Financial Burden of an MOT Student!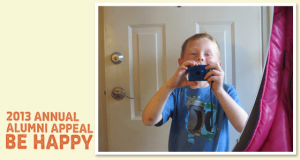 Happiness can come from many places. Here in the Department of Occupational Science and Occupational Therapy, we know that supporting people to engage fully in the occupation of their lives contributes to their happiness and well-being. For example, research in our department has shown that children who participated in a study in which they took pictures to document their daily routines experienced high levels of happiness; stroke survivors greatly enjoyed the use of the Wii game console as a rehabilitation tool; and wheelchair users exhibited diverse expressions of happiness by participating in wheelchair dance, a unique performance-oriented, recreational activity.
Supporting a person to achieve his or her potential is another way to experience happiness. Donate to the Rehab Sciences Alumni Bursary to help ease the financial burden of a Master of Occupational Therapy student. Feel happy knowing that your donation will make a difference in allowing a student to engage fully in the occupation of their studies and achieve success.
You can make a gift to support OT students in financial need here. Thank you for your support.
Support Excellence in Research
This fund supports occupational therapy research projects conducted by graduate students and faculty. By supporting innovative pilot projects that don't fit specifically within existing funding agency frameworks, we anticipate building capacity to attract significant funding through larger health granting opportunities. Your gift helps us lay the groundwork for excellence in OT research and advancements in practice. Donate now.
Support Outstanding Students
Dr. Margaret Hood was the first OT instructor at UBC in 1961. In honour of her tremendous contributions to the development of the Rehabilitation Sciences and Occupational Therapy programs at UBC, alumni from these programs have made gifts to support a scholarship for a superior graduate student in Occupational Therapy. The scholarship assists exceptional students by providing both financial support and recognition of their academic achievements. Donate now.
Until 1981, students in the Bachelor of Science in Rehabilitation program received a stipend from the Province for clinical work in the hospitals. In 1982, however, the province discontinued the clinical stipend for Rehab students, making it more difficult for students in this demanding program to manage the costs of pursuing their education. The BSR Class of 1982, led by RMUS President Nancy Cho (now a physical therapist practice leader in Vancouver) raised money for an endowed bursary, to support students in financial need. Over the past 30 years, the bursary has distributed over $60,000 to 48 students in both occupational therapy and physical therapy. Donate now.
Support Education Initiatives
Gifts in this category help us upgrade student learning resources, classroom technology, therapy equipment, and emerging fieldwork placement opportunities. Donate now.
or read below to learn about Robb Dunfield and our 50th Anniversary campaign.
To purchase a print, please contact us at 604.827.0527.
In honour the 50th Anniversary of the Department of Occupational Science and Occupational Therapy (OSOT), the department commissioned a wonderful painting, called "Contemplating Life," by Robb Dunfield.
Robb – who paints with his mouth – was paralyzed from the neck down after falling from a balcony at the age of 19. After spending more than seven years of his life in hospital, Robb was one of the first high-level, ventilator-dependent quadriplegics to live outside a hospital. Now a renowned artist, motivational speaker and disability activist who inspires those around him to live a full and rich life, he credits his occupational therapists with helping him to develop a vision for happiness beyond the hospital walls.
Your gift will advance research in occupational science and occupational therapy. It will fund student research projects that help to provide evidence for the value of occupational therapy assessment and intervention, as well as studies on occupation-based discoveries for improving health and well-being. With your help, UBC occupational scientists and occupational therapy students will be able to expand the evidence-base for the profession.
"The painting was inspired by the thought of looking at the future when we are younger and getting excited about the many possibilities in front of us. I imagine that we have all spent an afternoon with a friend or family member, sitting in an open space and contemplating our dreams and really believing that "the world is our oyster" and we just need to decide what paths we want to explore.
The therapists that I have been involved with over the past 33 years have always been very giving, understanding and very focused on making a difference in someone's life who has gone through a very dramatic change. This is why I chose to use a subject matter of two girls, as they represent the many, many individuals that have helped and potentially represent those who might choose to become a part of this amazing profession."
– Robb Dunfield
There are a number of options for supporting OSOT with a donation and receiving a print of "Contemplating Life".
1. Contemplating Life Laser print $250 (Donation tax receipt amount $100)
2. Contemplating Life Framed laser print $500 (Donation tax receipt amount $200)
3. Contemplating Life Framed giclee print on canvas $750 (Donation tax receipt amount $300)
You will receive a tax receipt for the donation part of your gift in accordance with Canada Revenue Agency regulations. To make a gift and receive a print of "Contemplating Life", please visit: Start an Evolution
You can also make a donation directly to supporting Occupational Science & Occupational Therapy. Please visit: Help Support OSOT
To purchase a print outright, please contact us at 604.827.0527.