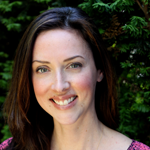 Occupational Profile
Katie was inspired to become an occupational therapist by her Aunt Barbara O'Shea, who is a pioneer in the profession and whose innovation, passion, and drive to push occupational therapy to new heights continues to be an inspiration. Occupational therapy seemed like a natural fit, as Katie sought to combine her studies in Ecology and love of working with people. She graduated with her MScOT from the University of Toronto in 2004. Over the last 10 years, professional curiosity and ambition inspired Katie to forge a varied career. She has been privileged to work with clients of various ages, abilities, and across practice contexts. Most recently Katie worked as an occupational therapist in child and adolescent mental health at BC Children's Hospital. She has also enjoyed work as a research assistant and research coordinator. Katie is very excited to begin her career as a Lecturer with the Department of Occupational Science and Occupational Therapy at UBC. Outside of work, Katie values the time she spends with family and friends. In particular, she finds meaning and joy in cooking and spending time in nature.
Teaching Interests
As a teacher Katie strives to facilitate the development of life-long, self-directed, and confidant learners who are passionate about occupation and occupational therapy. She believes in fostering the expertise that students bring to their educational experiences through recognizing students' capacity to use their own knowledge and experiences to build new learning. Katie seeks to inspire students to stretch their minds by exercising their creativity and encouraging curiosity, skills that are essential as occupational scientists and occupational therapists.
Activities & Memberships
Registrant, College of Occupational Therapist of British Columbia
Member, Canadian Association of Occupational Therapists
Member, World Federation of Occupational Therapists
Selected Publications
Crider, C.D., Calder, C.R., Lee Bunting K. & Forwell, S. (2014). An integrative review of occupational science and theoretical literature exploring transition. Journal of Occupational Science, (in press).
doi:10.1080/14427591.2014.922913
Lee Bunting, K., Durkin, H., Crosby, C., & Guile, B. (2013). Shared knowledge and enriched experiences: Reflections from entry-level master's preceptors and fieldwork students. Occupational Therapy Now, 14(6), 29-30.
Lee, K., & Kirsh, B. (2006). An occupational journey: Narratives of two women who divorced a spouse with alcoholism. Journal of Occupational Science, 13, 134-144. doi:10.1080/14427591.2006.9726506
Lee, K., & Fourt, A. (2005). Deriving occupational meaning and balance: The story of Claire. Occupational Therapy Now, Mar/Apr, 12-15.