Vision and Mission of the Department
The MOT curriculum is influenced by its administrative home – the Department of Occupational Science and Occupational Therapy. The Department, in turn, is influenced by the vision and priorities of the Faculty of Medicine and the University.
Department Vision
Health and participation for all.
Department Mission
Create, inspire, and uphold a scholarly community that contributes to the health of individuals and communities through research on occupation and education programs for occupational therapy students, health professionals, and scientists.
The Department of Occupational Science & Occupational Therapy provides a Master of Occupational Therapy (MOT) curriculum that not only helps fulfill the missions of the Department, Faculty and University, but is designed to attract excellent students and support them to achieve their career aspirations through partnerships with the occupational therapy and health professional communities
MOT Program Goal
The MOT Curriculum Advisory Circle developed a program goal statement to inform curriculum design. The Advisory Circle was comprised of occupational therapy practitioners, practice leaders, administrators, students and faculty. They guided the inaugural MOT Curriculum Committee in setting the direction for the new master's degree. The goal statement (and congruence of the entire conceptual framework) is now reviewed periodically by the MOT Curriculum Committee.
Broad Learning Objectives
The MOT program integrates occupational therapy theory, research, and practice, and is designed to meet or exceed provincial and national standards of practice. These standards include the ability to use research evidence to make responsible clinical decisions, critique and evaluate the effectiveness of occupational therapy, and develop and evaluate programs independently. Learning objectives are organized to follow the Essential Competencies for Occupational Therapists in Canada and are intended to help students achieve the overall program goal.
Upon program completion, graduates will be able to:
Use theory to guide practice and promote health
Practice effectively
Plan and implement occupational therapy sciences
Practice responsibility
Communicate effectively
Program Philosophy
The key statements in the program philosophy are clustered into beliefs about health and occupation, occupational therapy, and learning:
Health and Occupation
Engagement in meaningful occupation is central to health and well-being throughout the life span.
The social, cultural, physical and institutional environments influence and are influenced by engagement in occupation.
Occupational Therapy
Occupational therapy is a client-centered profession.
Occupational therapy theory and practice address occupational performance problems for individual clients, groups, and populations in the areas of self-care, and productivity and leisure.
Occupational therapy theory and practice must be based on, developed and verified through research.
Learning
Education in the social and biological sciences is essential in developing occupational therapists' holistic view of the individual.
An environment that fosters open communication, personal growth, critical thinking, self-directed learning, and respect and tolerance for others is essential to learning.
The development of habits for life-long learning such as scientific inquiry, creativity, problem-solving and adaptability are essential to meeting the challenges of a changing society.
Collaboration among the Department of Occupational Science & Occupational Therapy, the Faculty of Medicine and the University of British Columbia.
Conceptual Framework – The Cube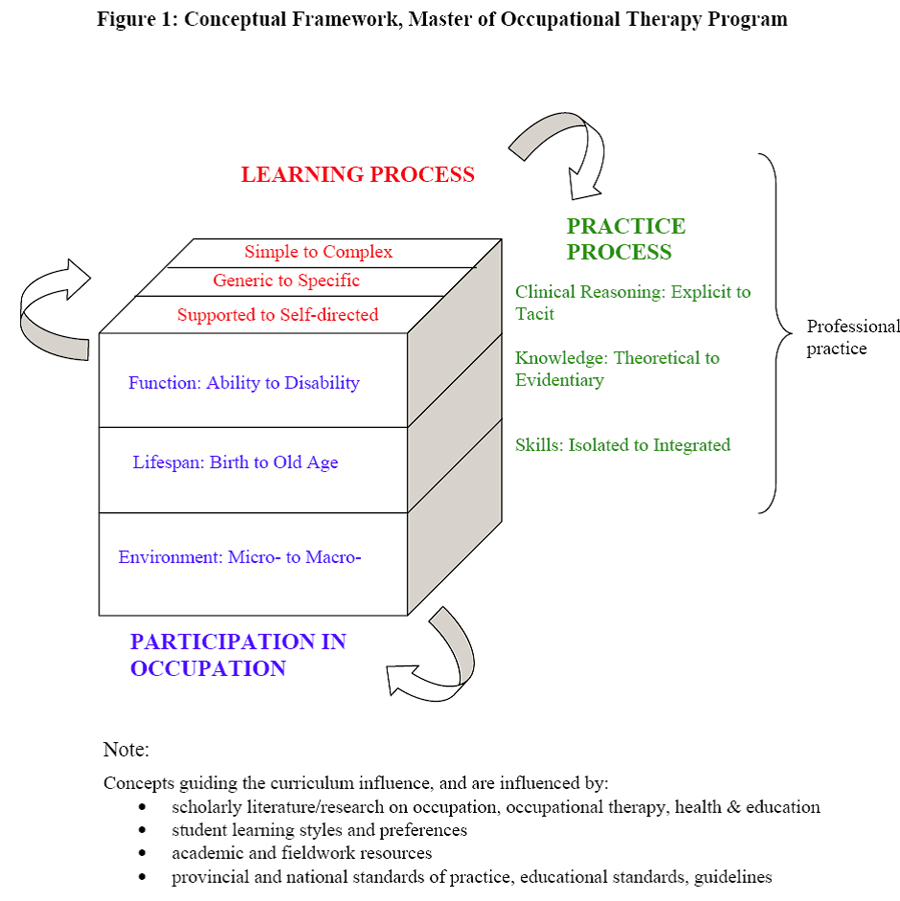 Curriculum Streams and Courses at a Glance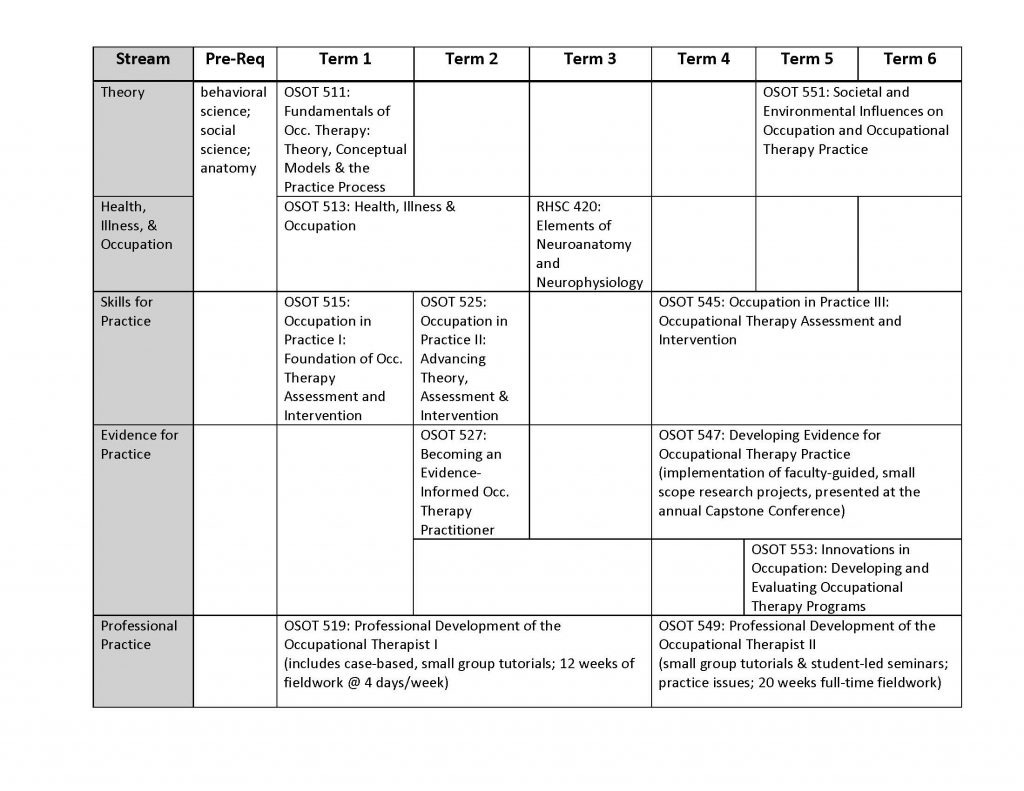 RHSC course listing
Note: only RHSC 420 is required
Link to admission requirements
Learning Environment
The Department is committed to creating a learning environment that is learner-centered, based on mutual respect and collaboration, and fosters habits of self-directed, lifelong learning. Faculty members promote a genuine enthusiasm for the profession and the learning process.
Class Size
A cohort of 48 domestic and up to 8 international students is admitted annually. All occupational therapy courses have a maximum of 56 students for seminars and lectures, with a faculty to student ratio ranging from 1:6 to 1:48. Most laboratory sessions requiring direction, supervision, and feedback are taught in sections or with teaching assistants to ensure a ratio ranging from 1:8 to 1:24. Case-based tutorials are small groups with about 1 tutor to 8 students.
Physical Learning Resources
The Seaview Learning Centre provides both a small computer lab and course materials (e.g., readings, assessments, DVDs, etc.). The student lounge contains study carrels and resources for  presentation rehearsals. Six small group seminar rooms may be booked for group study. Two teaching labs are available for practice skills. Students can also book the teaching labs for enrichment learning activities such as "Rehab Rounds." Assessment kits and therapy equipment are stored in the teaching labs and made available to students for completion of experiential assignments such as the wheeled mobility and accessibility assignment.
The resources of the University, such as the Learning Commons and the Woodward Biomedical Library (and dedicated liaison librarian), are readily available, as are a wide range of activities and services to round out student life.
Fieldwork
The academic component of the program is integrated with a strong fieldwork element  – comprised of more than 1000 hours of practice in agencies throughout British Columbia, or, at the students' request, elsewhere in Canada as well as  abroad . Fieldwork is conducted in a variety of settings, including urban and rural placements, the public and private sectors, and involves clients across the age span  with varying mental and physical abilities.
Inter-Professional Learning
Adhering to the BC Competency Framework for Interprofessional Collaboration (2008) and the National Interprofessional Competency Framework (2010), students are required to participate in numerous inter-professional learning activities, ranging from exposure to immersion. While some of them are mandatory, the majority are electives, chosen according to the student's learning needs and interests.
For further detail regarding our curriculum, download the Departmental Curriculum Document here.