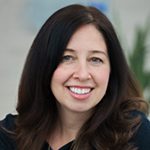 Research Graduate Student Opportunities
Laura welcomes new MSc and PhD students
Occupational Profile
Dr. Laura Nimmon is an Associate Professor in the Department of Occupational Science and Occupational Therapy and Scientist at the Centre for Health Education Scholarship, Faculty of Medicine, University of British Columbia.
Healthcare is never enacted in isolation. Dr. Nimmon's primary research interest is in making the influence of social networks visible within the educational and clinical practices of the health professions. Her work expands conceptualizations of technical expertise to encompass relational expertise that enables health practitioners to learn more effectively and respond more sensitively when interacting with patients and colleagues. Using contemporary social network theories and critical theories, Dr. Nimmon's research explores three inter-related themes: (1) How formal (instructors, supervisors) and informal (peers, friends, family) social networks influence learning and well-being across the continuum of health professions education and practice, (2) How relational coordination shapes teamwork in palliative and chronic disease care settings and (3) How practitioner and patient social networks interface to shape the meaning and experience of healthcare. Her research is funded by tri-council funding agencies, hospital foundations, and professional regulatory bodies.
Broadly, Dr. Nimmon also brings new social theories to bear on pressing questions in the field. She translates and applies these theories for others to see anew and enlarge their own scholarly approaches to learning and practice. Dr. Nimmon has published her conceptual work in the leading health professions education journals
Dr. Nimmon is an award-winning researcher and mentor.  She is the recipient of the CAME-ACEM Champion Award for advocacy, role modeling and mentorship of early career researchers (2020), and Young Investigator Research Award from SACME (2017).
Outside of work, Dr. Nimmon treasures time with her family and enjoys yoga, photography, literature and nature.
Research Interests & Specialization
Laura brings a perspective to the broad field of health professional education research that is shaped by her training in the fields of medicine, sociology, anthropology, and sociolinguistics. Her approach emphasizes how social interactions, power relations, cognition, language, and identity are always co-produced and bound to context. In her current program of research, she uses ethnographic methods, social network analysis, activity theory and genre theory to explore how distributed chronic disease healthcare teams enact patient-centered care within webs of power and influence. Laura enjoys working together with interdisciplinary research teams to solve complex sociological problems that occur in various health professions practice contexts.
Teaching Interests
Laura has a teaching background in adult education and has taught various linguistic and cultural groups around the world. She currently teaches graduate level sessions on qualitative research as a method of inquiry.
Activities & Memberships
Associate Editor, Perspectives on Medical Education
Review Board Member, Teaching and Learning in Medicine
Consultant, Foundation for Advancement of International Medical Education and Research
Member, Canadian Association for Medical Education
Member, Early Career Medical Educators