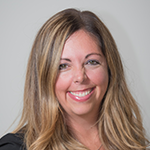 Occupational Profile
Dr. Skye Barbic is a registered occupational therapist with a clinical sub-specialist interest is the rehabilitation of adults with serious mental illness. Her clinical training was at Queen's University in Kingston, Ontario and she completed her doctoral studies at McGill University. Skye completed her post-doctoral fellow at UBC in the Departments of Psychiatry and Occupational Science and Occupational Therapy, which followed her first post-doctoral fellowship, at the Centre for Addiction and Mental Health in Toronto where she applied her expertise in health outcomes measurement to the field of psychiatry and mental health rehabilitation. She is an active member of the health outcomes research community and was awarded the top New Investigator Award at the International Society of Quality of Life Research congress for her work in the application of modern measurement methods to understanding depression. Skye has taught courses in occupational therapy and supervised students at the University of Toronto, McGill and Queen's. She is passionate about her profession and her goal is to promote the role for occupational therapists as evidence based leaders in mental health rehabilitation and beyond.
Research Interests & Specialization
My scholarly interests build upon the foundation of work by the Mental Health Commission of Canada, which provides strategic direction and prioritization on where Canadian mental health services should focus effort and resources. Specifically, my plan focuses on three main priorities:
(1) the assessment of recovery and well-being for people of all ages living with mental illness;
(2) the development of tailored and accessible mental health services, treatments, and supports, where and when people need them;
(3) the mobilization of leadership to foster collaboration at all levels to re-focus spending on the identified needs of people with mental illness and to correct years of under-funding in mental health.
My particular focus has been on examining these priorities as they relate to emerging adults with mental health problems or illnesses. Mental illness affects 20% of Canadians in their lifetime, and indirectly affects all Canadians at some time through a family member, friend or colleague. Mental illness affects people of all ages, educational and income levels, and cultures. The estimated cost to Canadian society is approximately $192 billion annually, and evidence suggests that in the next decade, mental illness will be the leading cause of disability in Canada. On any metric, identifying, targeting, and measuring mental health outcomes early on in a person's lifespan is of essential importance for all Canadians given the immense impact it has on individuals, families, and society. My research findings inform occupational therapy practice and education, and increasingly involve collaborations with other health fields, with broader implications for health services, professional practice, and policy.
I have a wide range of partners and contribute methodological expertise to clinical and health service studies in other areas, particularly emergency medicine, rheumatology and psychiatry.